What is Whole Brain® Thinking?
Whole Brain® Thinking describes one's thinking preferences. There are four quadrants of think­ing – (A) Analytical, (B) Practical, (C) Relation­al, and (D) Experimental
We each have the ability to use all four quadrants, but we clearly have preferences for some over others. Those preferences form the basis of the Whole Brain® model. The HDBI® or Herrmann Brain Domi­nance Instrument is a tool that helps identify your preferred thinking styles.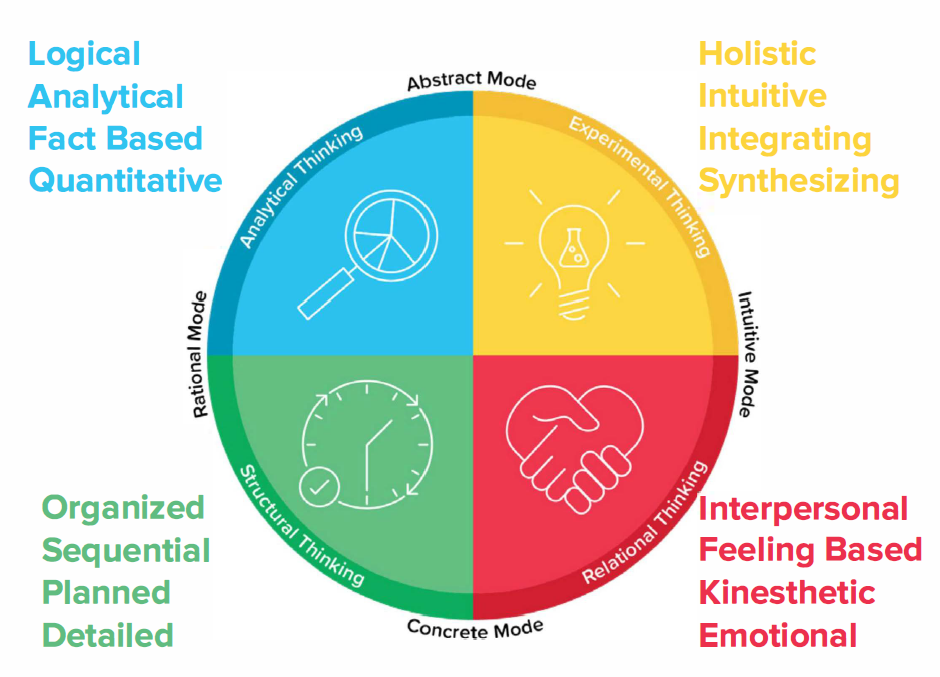 Why should I "invest" in it?
Research has proven that individuals and teams who embrace and practice a Whole Brain® Thinking approach perform at higher levels, are more productive & effective, are more innovative & successful, and are more diverse & inclusive at the same time. We know "Leading Courageously" is about challenging assumptions, listening to opposing viewpoints, and pushing back as necessary. The disconnects we encounter with others could actually be caused by different thinking preferences, and once we understand that, they are easier to overcome.
Why the HDBI® & Whole Brain® Thinking?
Better results start with better thinking
THINKING PREFERENCES
Understanding your thinking – the cognition that shapes your personality and behavior – is critical to improving effectiveness and engagement in individuals, teams and organizations.
Instead of putting you "in a box," our tools focus on how to harness cognitive diversity and stretch your thinking agility to keep up with accelerating change.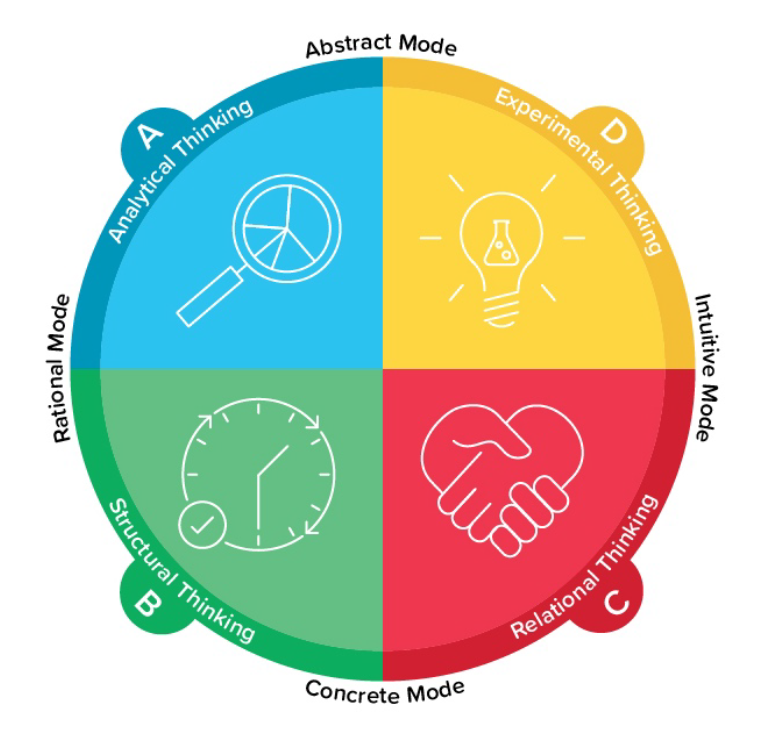 UNMATCHED VERSATILITY
The simple, effective Whole Brain® framework serves as a powerful common language across the broadest scope of application areas, from communication and team collaboration to decision-making, strategy, innovation, customer insights and diversity & inclusion.
DEVELOPMENT ROOTED IN SCIENCE
The HBDI® and Whole Brain® Thinking are based on the science of neuroplasticity, teaching that we all have the capacity to stretch our thinking. This creates a positive, inclusive learning experience without pigeonholing or non-productive labelling.
A BLENDED LEARNING JOURNEY
Unlike other options that are 'one-and-done', our integrated suite of sticky digital apps and blended learning products provide an ongoing journey that reinforces the learning and creates greater ROI for individuals, pairs, teams and entire organizations.

HBDI® Reports

Get your HBDI® profile now
If you would like to order a profile(s) complete the form below and we will be in contact